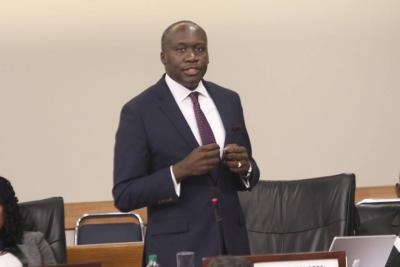 Minister of Public Administration and Communications Maxie Cuffie should submit his resignation or be removed by the Prime Minister immediately for his disgraceful, distasteful and insulting statements which he sought to mask as an Easter Message.
It was clear that the Minister who can be considered the Official Spokesperson for the Government based on the Communication portfolio sought to make a mockery of the most significant celebration on the Christian Calendar by seeking to defend the failures of his Government as well as mislead the population into believing the Treasury is empty.
Never in the history of our nation has any Minister or Public Official sought to infuse Politics into the significance and teachings of the various religions or even change the meaning of those beliefs within our nation as was seen by this attempt to insinuate that citizens were to be blamed for the state of national affairs within Trinidad and Tobago.
The Minister must be further asked as to the meaning of his statements when he said "those who once shouted Hosanna are now shouting crucify him " as this cannot be the story of the Lord Jesus Christ given the use of present tense "are now". Therefore was the Minister seeking to compare his Administration to the trials faced by Jesus as well as make citizens feel guilty for speaking out for better Governance in the past?
This is a clear breach of the boundary which exists between the state and religion but even more so it is a clear use of state power to spread Government Propaganda by seeking to infiltrate the independent beliefs we hold sacred to us as a nation.
As a society we must hold strong to the religious and cultural values as well as teachings which have forged as a united cosmopolitan society and never allow any entity to convolute these principles for Political or personal gain.
There is a time and place for everything and political Propaganda has no place in religion similar to how an individual who breaches the integrity and decorum of public office as Minister Cuffie has no place in the Cabinet of Trinidad and Tobago.
Dr. David Lee,
Chairman, United National Congress & Member of Parliament for Pointe-a-Pierre.